If you're over the age of 55, chances are you've started to, or at least dreamed of, slowing down the pace of your life and shifting to a lifestyle that is more about enjoyment and less about work. Some dream of traveling the world and some want to stay where they are. Still, there are others who want to establish roots (whether permanently or seasonally) in a destination that will help them enjoy more and work less. The ideal destination to accomplish your dreams can vary greatly from person to person.
Where Can I Find the Perfect 55+ Lifestyle for Me?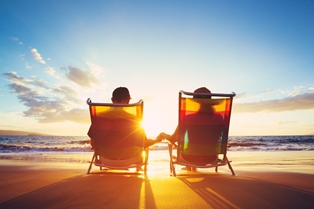 It's important to consider a variety of factors that work for YOU and are not cookie cutter. Ask yourself, "what do I need in life that will bring me the greatest enjoyment?" Think about climate, culture, proximity to water or mountains, cost of living, access to your hobbies, ability to age in place. Start researching locales and make a short-list of areas and towns that meet these needs – then visit them for at least a week to decide if each spot should stay or go from your short list.
Now quick, if you haven't already, think about the things in life that bring you the most enjoyment. Don't think too hard, think of 5. Did any of the following come to mind: beach, bay, golf, culture, value, history, good food, education?
If any of these buzzwords fit what you need to enjoy your best life, you might want to consider the biggest town on the Delmarva peninsula, Salisbury, MD, as the location for you to establish roots.
Delmarva, What?
Salisbury, Maryland, known as "The Crossroads of Delmarva," is home to a top university, a vibrant art scene, and a downtown in the midst of a revitalization. In Salisbury, residents and visitors alike enjoy easy access to the Atlantic Ocean and multiple large bays such as the Chesapeake, Assawoman, Indian River and Rehoboth Bays. The community is close enough to enjoy the "beach life" but tucked away to provide peace and tranquility during the tourist season. In Salisbury, the town isn't deserted in the winter or over populated in the summer.
But we've digressed from our original thoughts… let's get back to those things that bring YOU enjoyment in life and give us an opportunity to tell you more about the city of Salisbury, Maryland… and how the 55+ lifestyle buzzwords mentioned above fit in with life in this charming coastal town.
8 Popular 55+ Lifestyle Buzzwords& Phrases
1. Cost of Living
The cost of living in Salisbury is lower than the national average based on an overall scale. With the average cost of living at 100, Salisbury scores a 94. If you're an active adult who desires to live near the coast, these locales can often have high costs of living. Many boomers on the east coast might research moving to a beach town like Ocean City, Maryland for example. With a little digging they will find that Ocean City's cost of living is 11 points higher than the national average.
Still, they may ask, "what about tax-free Delaware? Surely I can live there with all I will save in taxes!" This assumption is wrong. The cost of living in Rehoboth Beach, Delaware, for example, is a whopping 46 points higher than the national average.
Bonus points!: living outside of a direct coastal area saves you BIG by not requiring flood insurance.
2. Proximity to Water
The town of Salisbury itself is considered a river town, with the Wicomico River starting within it. You'll find water throughout the city, with ponds and lakes sprinkled throughout the zip code. It's Riverwalk and marina areas are part of the town's revitalization initiatives through 2020, with plans to fully engage the waterfront areas and create more recreation and leisure opportunities.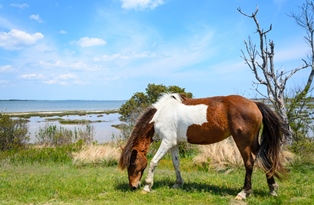 While living in Salisbury will not provide you with beach or bay front views, this town is less than one hour from almost a dozen beach towns and quaint bay villages.
Here is just a sampling:
In Maryland: Ocean City, Assateague Island, Ocean Pines, St. Michaels, Berlin
In Delaware: Fenwick Island, Bethany Beach, Dewey Beach, Rehoboth Beach, Lewes
In Virginia: Chincoteague Island, Wallops Island
And if you love to be on the water, there are several bays and rivers within an hour's drive at which to enjoy a day on the water in your boat, kayak or canoe. A few even provide access to the Atlantic Ocean.
In Maryland: Assawoman Bay, Isle of Wight Bay, Sinepuxent Bay, Nanticoke River, Newport Bay
In Maryland/Virginia: Chincoteague Bay, Chesapeake Bay
In Delaware: Indian River Bay, Rehoboth Bay
3. The Arts and Entertainment
The community of Salisbury is passionate about the arts. With many art galleries and studios to visit, concerts to enjoy and community events to take part in, there is something for everyone here. Salisbury is a designated a "Main Street Maryland" community and offers plenty of opportunities to enjoy time with family and friends. Salisbury is home to year-round entertainment with many live music venues and theaters to take in a show. There are countless festivals and events held throughout the year with some of the most popular being: Salisbury Restaurant Week, Pork in the Park, Downtown Salisbury Festival, Good Beer Festival and Autumn Wine Festival.
4. Continuing Education
Salisbury University, located in (you guessed it) Salisbury was founded in 1925 and is consistently ranked as a top college in a variety of categories from publications like Kiplingers, Forbes, Money, The Princeton Review and more. In addition to its undergraduate and graduate programs, Salisbury University also offers programs for those 50+ at The Association for Lifelong Learning (ALL). ALL offers participants more than a dozen topics ranging from "Chapters from My Life: A Course in Memoir Writing" to "Ancient Rome: From Republic to Empire."
But if SU's courses don't offer topics you're interested in, you can take some personal enrichment courses at Wor-Wic Community College. Here you can learn a new skill like web design or digital photography, freshen up your cooking skills, or even learn more about Quantum Physics!
5. Golf
We may be capitalizing on the stereotype of a 55+ person here, but the Eastern Shore is a huge destination for golf on the East Coast. There are more than thirty golf courses in this region with addional courses located throughout the rest of Delmarva.
6. Food & Drink
Salisbury has a vibrant restaurant scene with endless options from farm-to-table to fast casual, and with such a friendly atmosphere it is easy to get recommendations on the best places to enjoy a meal. For those who enjoy beer & wine, Salisbury and the surrounding area is home to several wineries and breweries like Bordeleau Winery and Evolution Craft Brewing. Almost a dozen other breweries and vineyards are located within an hour's drive of Salisbury.
7. Accessible To/From Major Cities
As the most populated city on the Eastern Shore of Maryland, Salisbury provides easy access to major highways that flow to east coast metropolitan areas – Baltimore, DC, Philadelphia and Wilmington.
If flying is more your speed, or for trips beyond the I-95 corridor, Salisbury Regional Airport is supported by American Airlines and easily connects passengers to its hubs in Philadelphia and Charlotte for national and global connections.
8. Access to Healthcare
Even though we don't like to think about it, our health and medical needs will change over time after making a move; so it's important to consider moving to a location that has a good health system and is easy to access. Salisbury is home to Peninsula Regional Medical Center, which over the last 5 years has received more than 125 national awards, recognitions and certifications for medical excellence. Since Salisbury is the regional hub for business and commerce, it is also the hub for medical services… with many physician and specialist offices available within a short drive.
Let's not think back to that checklist we asked you create earlier… did any or all of the above 55+ community criteria match our descriptions of life in Salisbury? If so, the next step would be to dive deeper into the possibility of living in this wonderful community!
This All Sounds Great! What Now?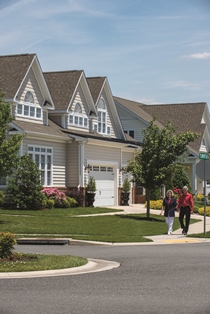 The Salisbury home market is very affordable and there is a good amount of inventory available for buyers. With so many options it can be overwhelming to narrow things down. But since you're over the age of 55, you have one advantage over the younger generations – the opportunity to live in an active adult community!
Residents who live in an active adult community enjoy many services and amenities while living among people of a similar age. A 55+ community takes away many of the hassles of home ownership, like mowing the lawn, raking the leaves, and shoveling the snow. Additionally, if you decide to move a new construction active adult community, many appliances and fixtures in the homes are under warranty!
So if you like the idea of living in Salisbury and think a 55+ community might be for you, come check out SummersGate Active Lifestyle community… Its benefits include:
A new 55+ community with condos, duplex townhomes, and single-family homes
Homes have many customizable design options
Designed for your future needs with single-story living
Low-maintenance living
Live in a neighborhood of peers
Clubhouse with pub, game room, heated outdoor pool, gym, and more
Easy to find and accessible from major routes
Contact Lana at Summersgate by phone (410-543-8750) or email ([email protected]) if you'd like more information today!