Today there are so many housing options to consider when thinking about moving to a new home. "Do I want new construction or an established neighborhood; move-in ready or fixer upper; townhome or single-family; age-restricted or not?" There are pros and cons to each option, but what it all comes down to is whether or not the home you ultimately choose will your unique list of and needs.
The last type of decision, "age-restricted or not?" is the one we will focus on in this blog. Moreover, it's just one of the considerations any person over the age 55 and thinking about moving might ponder. First, it's important to address what exactly an active adult community is – and is not.
What is an active adult community?
An
active adult community
is a neighborhood where the majority (80%) of the population must be over the age of 55. These
communities go by several other monikers
such as 55+ community, age-restricted community, active lifestyle community, and more. Those who live in these active adult communities enjoy a lifestyle that requires lesser maintenance on their home, provides amenities like a clubhouse and pool, offers opportunities to participate in activities, and helps residents establish relationships with their neighbors who are of similar age and searching for similar services and amenities.
Homes in 55+ communities are typically constructed with all of the primary living necessities located on the main level of the home – kitchen, living room, dining room, master bedroom, and bathroom. The type of home can vary depending on the community and what a buyer desires. Some 55+ communities may offer condos only, others might offer townhomes only, and yet some, like
SummersGate
55+ Community offer both PLUS single-family homes.
Square footage of these homes varies depending on the style, and budget of the buyer. While many think that moving to a 55+ community means downsizing, that is not necessarily true. Many buyers do, in fact, want to downsize from a larger, multi-family home but others keep a similar square footage or even purchase a home that is bigger than their previous one. At an active adult community, it is all about finding the floor plan that fits your needs, not the other way around.
Is an active adult community the same thing as a retirement community?
A common misconception about active adult communities is that they are essentially a nice new word for retirement community. This is not the case… There are distinct differences between the two. First, a primary difference lies in how a resident acquires their new home. A person who lives in an active adult community typically purchases their home and take full ownership of it. Many retirement communities are either 'continuing care retirement communities (CCRC) that require significant up-front entrance fees on top of monthly fees and do not enjoy full ownership of their home while others might be rental. Others still may allow homeowners to purchase their home, but retirement communities with this model are becoming fewer by the year.
Next, retirement communities typically offer more services that are attractive to a senior who no longer wants to cook their meals, needs housekeeping services, and desires a robust community calendar of organized activities in which to participate. Retirement communities are typically large campuses, with many condominium buildings and many residents.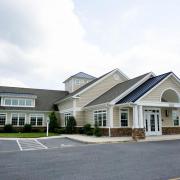 In an
active adult community
, residents go about their lives very similarly to how they went about their lives before moving – just a little better! In a 55+ community, speaking from personal experience with
SummersGate
, owners live in beautiful spaces that are perfect for entertaining. They cook meals in their gourmet kitchen while guests are enjoying watching the Sunday game in the living room. Residents want to cook. To entertain. To gather… They want to live their independent life but still love that the community clubhouse is just down the street complete with gathering, activity, fitness and card rooms when they want to participate in community life. These amenities are accessible but conveniently separate.
Should I WANT to live in an active adult community?
If you ask
us
, YES! We would not build active adult communities if we did not think it was a great concept. However, don't take our word for it… A 55+ community does have a different lifestyle than buying in a traditional neighborhood. It is important to make a list of pros and cons that are unique FOR YOU. When considering if the 55+ lifestyle is a good fit for you, reflect on this article and ask yourself some questions; Here are a few to get yourself started –
•
Am I tired of having to mow the lawn and do landscaping every season?
•
Do I want to live in a home that is semi-custom and designed for my current and future needs?
•
Do I want to get to know new people and establish new relationships?
•
Do I want to live in a quieter neighborhood?
These questions are just the tip of the iceberg. Take some time to ask yourself questions that relate to what you are willing to give up in your current home/lifestyle and what you are looking for in a new home/lifestyle. If you answered 'yes' to more than half of the questions on this short list, do some online searching and find 55+ communities in your area. Pick one that interests you most and make an appointment to speak with someone in their sales office.
If you are looking for a 55+ community in or near Salisbury, Maryland, reach out to Lana Foley at SummersGate. She would be happy to answer any of your questions, help you go through your list of pros and cons, and give an honest answer about whether or not
SummersGate
can meet your needs.
1130 Kestrel Way, Salisbury, MD 21804
410-543-8750